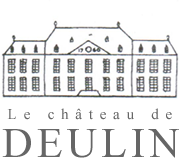 THE CHATEAU
---
The Chateau was built in 1758 by Guillaume Joseph de Harlez, then completed and decorated by his son Simon-Joseph de Harlez in 1770. Its distinctive U shape is made of whitewashed bricks and blue stones under slate roofs, with an inner yard surrounded by outbuildings.
The seigniorial chapel is dedicated to Saint Remacle and was decorated with stucco work and baroque altar. The interior of the Chateau is sumptuously decorated, particularly with rococo stuccos from the artist François-Joseph Dukers, and paintings by Jean-Dieudonne Deneux.
To the north, a walled garden dateing from the XVIIITH century was restyled into a French garden at the beginning of the XXTH century. At the rear lies a beautiful view of the Ourthe river and the landscaped garden consisting of interesting heritage trees from the second half of the XIXTH century.
Part of the exceptional Walloon Heritage since 2002.
Today the Chateau is inhabited by Stéphane and Dominique de Harlez de Deulin and their children.

In 2016 the paint, window frames and the roof has been totaly refurbished.
---

Close

Open